Our customers are our lifeblood at J&L Amish Depot, which is why it is our mission to pass as much value as we can to everyone who visits us in Eastampton. On all of our items, we pass along as much of the savings to all of our customers. In addition to our normal pricing, we occasionally have an opportunity to reduce our normal prices or we will do so just to celebrate a holiday. Below, you will find special offers, price reductions and sale prices on our quality Amish-made furniture and structures.
Everything at J&L Amish Depot is created with the same care and attention to detail. Just because we can offer a special price or an item is on sale does not mean that it is made any differently than any of the other furniture or structure that we provide. Everything is handmade by Amish craftsmen using traditional building methods and techniques. Our goal is to provide authentic and affordable quality to South Jersey. See below, sign up for our email list or follow us on Facebook for sale details.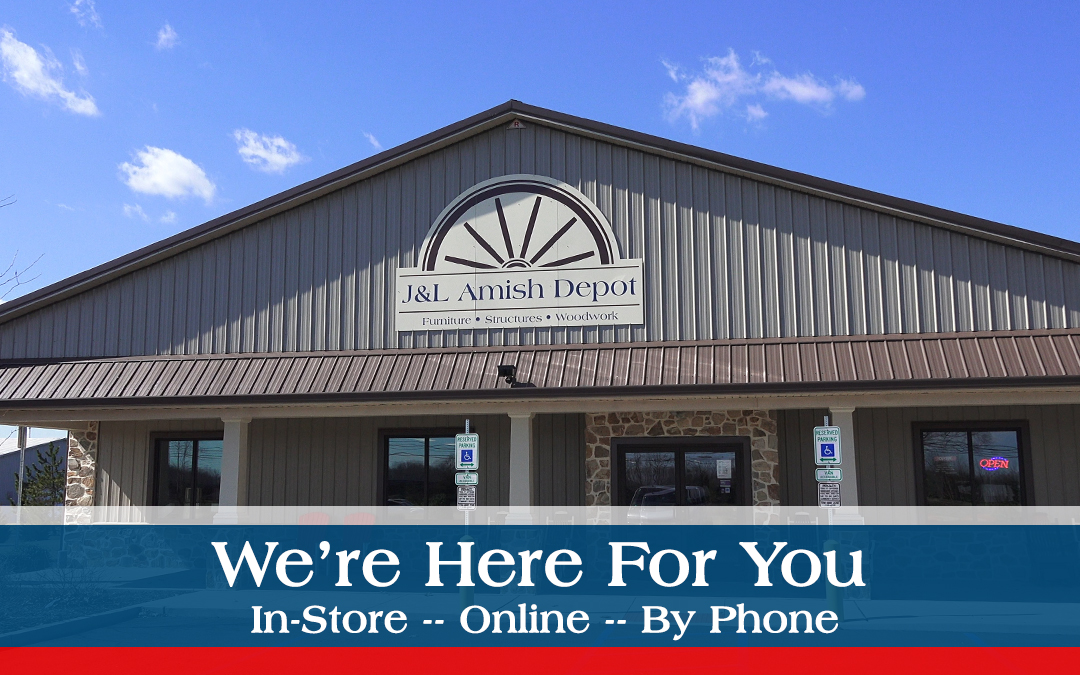 In light of the constantly changing stream of information and events surrounding the coronavirus outbreak, I wanted to update you all personally on our status at J&L Amish Depot. The store is currently open during our normal business hours and will continue to operate as such for the time being.
As a home improvement store which has been designated an essential service, we are choosing to remain open as a service to all of our customers. Many of the people who visit our location during this time of year come to browse our large outdoor display lot to view our inventory of outdoor furniture and structures. We feel that this activity is safe and ask customers to take additional steps to maintain a safe six-foot distance from other customers. Additionally, we are providing hand sanitizer to our guests and regularly sanitizing frequently touched surfaces.
In the interest of safety, we are limiting customers coming into the store to a maximum of 10 customers at any given time. We ask again that customers practice proper social distancing inside of the store and take advantage of available hand sanitizer or soap and water in the restrooms. It is our duty to prevent the further spread of this virus while continuing to be of service to our local community.
I'd like to ask anyone who is feeling sick or may have come in contact with anyone who has been infected to please stay home. Our website provides detailed information about our available products and we are happy to take any questions that you might have over the phone.
Finally, I know that at this time a lot of people are feeling cooped up and stressed out. I've always been told that stress is bad for your immune system, so I encourage you to stay comfortable and take it easy and we will all get through this together.
From our family to yours I'd like to thank you for your continued support and wish you and your health and happiness.
Sincerely,
Jake King
Owner J&L Amish Depot